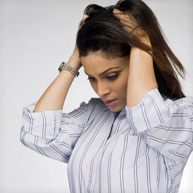 In this video, Jasbina
addresses the question:
I feel like my frustration with the dating process is making me bitter.  Should I take a break to clear my head or just push through and hope I meet someone?
I hear your frustration, and as a dating coach and matchmaker can assure you that you are not alone in feeling this way.
Putting yourself out there again and again can be emotionally draining. It can really take a toll. That said, a positive attitude is crucial in the dating process.  Your feelings of frustration and bitterness are likely more transparent to dates than you might realize, and it sounds like a break would be a good idea.
_____