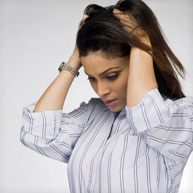 In this video, Jasbina
addresses the question:
I feel like my frustration with the dating process is making me bitter.  Should I take a break to clear my head or just push through and hope I meet someone?
I hear your frustration, and as a dating coach and matchmaker can assure you that you are not alone in feeling this way.
Putting yourself out there again and again can be emotionally draining. It can really take a toll. That said, a positive attitude is crucial in the dating process.  Your feelings of frustration and bitterness are likely more transparent to dates than you might realize, and it sounds like a break would be a good idea.
_____
[More from Jasbina] —> [VIDEO] Intersections Match by Jasbina – From The Founder
—> [VIDEO] Why Weddings Make Women Crazy… Before They Even Get Engaged
_____
Make that break count by doing self-nurturing activities which feed your soul – here are three ways to do this:
Pursuing passions such as music,  sports, art or travel.
Embrace a daily gratitude practice where you recount the day's experiences for which you're most grateful.
Spend time with friends and family who are in great romantic relationships, and try to steer clear of people with negative views of relationships or the opposite sex.
If you are frustrated with dating, savor your break from dating, while at the same time not getting too comfortable and staying out of the dating world for too long. 
_____
[More from Jasbina] —> [INTERVIEW] Diana Kirschner Interview: Online Dating Strategies
_____
While dating certainly can take us out of our comfort zones and make us feel vulnerable, the rewards of a healthy and happy relationship make it well worth it.
_____

What Do You Think?
Do you have any advice regarding 'I Am Frustrated With Dating – 3 Ways To Take A Break?' Share your thoughts in the comments below.
_____
[More from Jasbina] —> [BLOG] Does Love Come In Suprise Packages?
—> [VIDEO] How Tightly Should I Hold On To My Deal-Breakers – 3 Ideas To Figure This Out!
—> [INTERVIEW] Amir Levine Interview – Insights on Dating From A Psychiatrist And Neuroscientist
—> [BLOG] Is There A Soulmate For Everyone?
_____