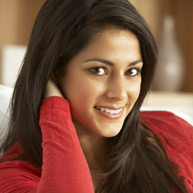 In this video, Jasbina addresses the question: I feel like I know instantly if I want a second date, but people tell me I'm too quick to judge.  What do you think? 
[VIDEO] How well do you really know your date? Jasbina explains the pitfalls of judging men too quickly.
As a matchmaker and dating coach to highly selective men and women, this question comes up frequently: am i too quick to judge to want a second date?
_____
[More from Jasbina] —> [VIDEO] Intersections Match by Jasbina – From The Founder
—> [VIDEO] Why Weddings Make Women Crazy… Before They Even Get Engaged
_____
3 things to keep in mind.
From your experience with first dates, how well do you think each guy actually knows you after just the first date?  It can be difficult to truly know another multi-dimensional person after just a single date.  The process of getting to know someone can be analogized to peeling back the many layers of an onion.
Instant chemistry may not be as great a tell-tale sign of potential as you might think.  At times, instant chemistry may be based on no more than repeating patterns from your past, some of which will not serve you well in the long-term.
Also keep in mind that some guys who may be great partner material are just not as great daters. On extreme ends of the continuum, a player with a lot of dating practice,  motivated to tell you exactly what you want to hear,  may very well make a better first impression than a less experienced commitment minded guy who may just be nervous during a first interaction.
_____
[More from Jasbina] —> [INTERVIEW] Neely Steinberg Interview – Unleashing Your Inner Entrepreneur to Find Love
_____
Bottom line is that you may be missing out on some great guys by limiting your assessment of a guy's potential exclusively to what you learn during your first interaction. Don't be too quick to judge if you want a second date.

_____
What do you think?
Do you have any advice regarding 'I Know Right Away If I Want A Second Date. Is That Fair?' Share your thoughts in the comments below.
_____
[More from Jasbina] —> [BLOG] Dating Board of Advisors: Who Do You Need?
—> [VIDEO] How Tightly Should I Hold On To My Deal-Breakers – 3 Ideas To Figure This Out!
—> [INTERVIEW] Saira Mohan Interview – A Supermodels Perspective on Dating
—> [BLOG] Limiting Beliefs – 5 Tips To Overcoming
_____