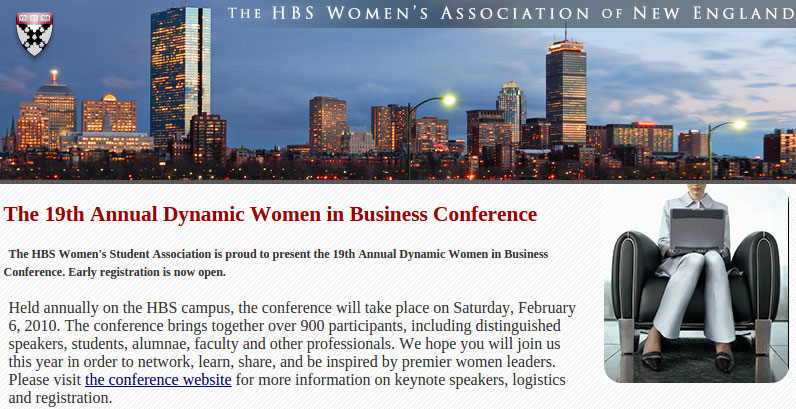 Jasbina Ahluwalia moderates the panel – "How women can stand out in the work place, Psychological traps to be aware of."
General Panels:
Reunion: HBS in the Rearview Mirror. Did I make the right choices?
Panel Chairs: Elise Bergeron & Caroline Wilson
Moderator: Jana Kierstead, Managing Director, MBA Career and Professional Development,Harvard Business School
Our lives at HBS and beyond are filled with decisions – some seemingly small ones that turn outto be critical and others that we didn't even realize we were making at the time. Find out whichdecisions mattered for HBS women 5-25 years out. How did they make those decisions, who didthey rely on for advice, and what would they change if they had it to do all over again?
Panelists:
Amee Chande, Senior Vice President, Strategy, Staples
Mikey Kindler, Director, Gilbarco Veeder-Root, Danaher
Leigh-Ellen Louie, Former President, Kaplan Test Prep and Admissions
Patricia Santos, Director, Highland Capital Partners
Anne Zahner, Managing Member, Radiant Partners, LLC
_____
The Great Work-Life Balance Illusion
Panel Chairs: Taylor Apfel & Radka Dohnalova
Moderator: Julie Battilana, Assistant Professor, Harvard Business School
Having a personal life within the very demanding expectations of leadership is a real question formany women. Is it possible not to give up home life while still pursuing a successful career? Iswork life balance a myth? Come to experience a life changing conversation about how several in-spirational and successful women have been able to create a successful and sustainable life.
Panelists:
Patricia Bell, Senior Vice President, Merrill Lynch
Bea Benkova, Founder and CEO, Extraordinary Women
Merrilyn Datta , Global Leader, Innovation Management, Life Technologies
Donna Levin, Vice President of Operations, Care.com
Anne Weisberg, Director of Talent, Deloitte
_____
Dynamic Duos: Can we really put the Blackberry down?
Panel Chair: Candice Bradley
Moderator: Amy Cuddy, Assistant Professor, Harvard Business School
Life beyond HBS will inevitably involve tough trade-offs between work and family. Can coupleshave exciting, ambitious careers, intelligent, well-adjusted children and a mutually beneficial rela-tionship? Our panelists will share their perspectives on work-life balance and whether this con-cept is just theory.
Panelists:
Tom Eisenmann, Professor, Harvard Business School
Jill Greenthal, Senior Advisor, The Blackstone Group LP
Debby Sharpe, Manager, Steinsharpe LLC
Jim Sharpe, Entrepreneur in Residence, Harvard Business School
Harry Slatkin, President, Limited Brands Home Design and Bath and Body Works Home Fra-grance
Laura Slatkin, CEO, Nest Fragrances
_____
Psychology: How women can stand out in the work place, Psychological traps to be aware of
Panel Chairs: Lubasha Heredia & Annie Tang
Moderator: Jasbina Ahluwalia, Founder and President, Intersections Matchmaking
What psychological stereotypes exist in the business environment regarding men and women be-havior. Are they external bias (e.g. pressure from the male colleagues, organization, or society atlarge) or a result of internalized self-belief (e.g. women themselves believe there is a certainimage they must adhere to). And once we understand the issues at hand, how can women avoidthe traps and fight the cause so as to achieve greater success?
Panelists:
Robin Ely, Professor, Harvard Business School
Carlotta Miles, Psychiatrist
Teresa Preskar, Vice President and General Manager, Medical Applications, Sealed Air Corpora-tion
Melinda Wickley, President, Wickley Interactive
_____
Women Celebrating Diversity: Meeting the Challenge. Diverse Women and Professional Obstacles in a Changing Business Landscape
Panel Chair: Sara Daniels
Moderator: Jasbina Ahluwalia, Founder and President, Intersections Matchmaking
What are the challenges women of diverse backgrounds face in their personal and professionallives? Tools and tactics to overcome these internal and external obstacles will be offered up vialively discussion amongst our esteemed panelists. The corporate/entrepreneurial/non-profitworld's focus has shifted to meet the demand of a drastically changing world. How do diversewomen fit into this new paradigm? Given the context of a global recession this topic is especially important and relevant.
Panelists:
Anna Collins, General Manager, Customer Service and Support, Microsoft
Kelly Gray, Vice President Human Resources and Chief Diversity Officer, FedEx Express
Lillian Lambert, Author
Tamara Nall, President and CEO, The Leading Niche
Lisa Sherman, Executive Vice President and General Manager, LOGO (MTV Networks)
_____
Women Leaders: Leading and driving results through changing times
Panel Chairs: Fatima Khan & Veena Ramaswamy
Moderator: Stacey Childress, Senior Lecturer, Harvard Business School
This panel will address how women business leaders have taken advantage of various marketopportunities or positions to drive change and success. What transferrable lessons can we alllearn from this unique time in the market and how can we, as women leaders, capitalize on simi-lar opportunities in the future?
Panelists:
Analisa Balares, CEO, Womensphere
Lynn Cronin, Author
Linda Heasley, CEO, The Limited
Nancy Mahon, Executive Director, MAC AIDS Fund and Senior Vice President, MAC Cosmetics
Lynn Tilton, CEO and Principal, Patriarch Partners
_____