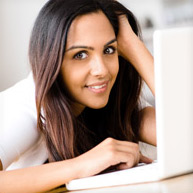 In this video, Jasbina addresses the question:
[VIDEO] When Should I Take My Relationship Offline?
When to meet a person you have spoken to online – How long should you correspond with a person online before meeting face-to-face?
As a dating coach and matchmaker who helps clients with their online dating efforts, this question comes up  a lot.
No TIME to Find Someone? We can HELP!
____
[
More from Jasbina
] —>
[VIDEO] Intersections Match by Jasbina – From The Founder
—> [VIDEO] Help! My Emotional Walls Are Keeping Me From Finding Love
_____
I find that people many times spend too much time communicating online before actually meeting face to face.  In my opinion, a big mistake.  
I  generally recommend limiting the number of online communications before meeting for the following three reasons:
First,  I'm going to presume you're online dating in search of a relationship as opposed to a pen pal.  The most effective way to gauge romantic potential is via in-person interactions over time.  If a  guy is not willing to meet in person, is it possible that he may be hiding something?
Second, online dating can be time-consuming and labor intensive enough as it is.  Who has the time and energy to email back and forth incessantly with someone before even seeing if there's any potential in-person?
Third,  people can develop emotional intimacy before actually meeting people they come across online. People can even begin to consider themselves in a relationship of sorts, and become so emotionally invested that they forego interactions and communications with other potential partners.
Bottom line, when two people are in the same city, I generally recommend a couple playful emails, leading to a phone conversation if desired, leading to a face to face meeting in a public place (please use all safety precautions).
[popup-contact-form id="1″ title="Contact Us"]
_____
[
More from Jasbina
] —>
[INTERVIEW] Catherine Cardinal Interview – Men To Run From To Find One To Run To
_____
Invest your precious time, energy and emotional attachment on guys with relationship potential, not pen pals. 
No TIME to Find Someone? We can HELP!
_____
What do you think?
What are your views on the question "When Should I Take My Relationship Offline?" Share your thoughts in the comments below.
_____
[
More from Jasbina
] —>
[BLOG] How do you know when you've met the right one?
—> [VIDEO] Marriage Advice: Best Advice & Biggest Mistakes
—> [VIDEOS] Abby Rodman YourTango Video Interviews – Dating & Relationships
—> [BLOG] 6 Tips To Successfully Find The Right Partner
_____