AAPI (American Association of Physicians of Indian Origin) Convention – Men are from Mars and Women are from Venus

The AAPI-YPS board would like to invite you to the 29th Annual American Association of Physicians of Indian Origin (AAPI) Convention at the Manhattan Hilton Hotel on the historic Avenue of the Americas in New York City, June 22th-26th, 2011.
This year's MSRF and YPS convention will feature regal evening entertainment at New York City's famous 230 Fifth featuring New York's largest outdoor rooftopgarden lounge. Our Saturday night gala will be at the famous Cipriani Wall Street for more dinner, drinks and dancing. We will also have a spectacular fashionshow from India's leading designers and models, yoga/meditation sessions from renowned instructors, an exciting singles mixer, and more!
As always, there will be engaging daytime sessions with well-known speakers as well as an incredible CME series
Join us Wednesday evening, June 22, for the AAPI YPS and AAPI NYC Metro Social & convention kick off from 9-11pm at Yuva Lounge
THIS YEAR'S FEATURED SPEAKERS:
Title: Men are from Mars and Women are from Venus
Friday 3pm – 4pm
Hear this Modern-Day Relationship Expert, Dating Coach, and Matchmaker Dispel Common Myths Men and Women Have About Each Other, Reveal Key Differences Between the Way the Sexes Relate and Communicate, and Moderate an Interactive Dialogue Between the SexesPut the communication tips you learn during this seminar to use! Stay for the YPS Mixer that takes place afterwards!
Speaker: Jasbina Ahluwalia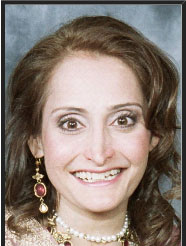 Jasbina Ahluwalia is a former attorney and happily married, second-generation, Indian-American Relationship Expert, Matchmaker and Radio Show Host.
She is pursuing her entrepreneurial passion as the Founder and President of Intersections Match, the only Elite Personalized Matchmaking & Dating Coaching Firm in the country serving Selective Singles of South Asian descent Nationwide in the U.S.
Jasbina is also the host of Intersections Talk Radio, a monthly holistic lifestyle show, focused on our continual evolution into the best versions of our authentic selves, conversations with published authors/experts on relationships and health and wellness.
Jasbina was one of the finalists in OPRAHS search for a new TV Host. She has anchored relationship Q&As for NetIP, NetSAP Boston, Indus Women Leaders, Cornell India Association, Indo-American Arts Council and serves as a Relationship Expert in the upscale Washington Masala, India Currents and ABCDLady.com.
_____